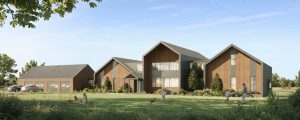 Our clients, whom we will call A&A to protect their privacy, came to us with a desire to create something unique for their forever home—the home where their family will grow, a home that will show their personality and style. The beauty of these clients is that they came to us with unique skill sets that allow them to tackle portions of the project themselves. He owns a construction company that specializes in high-end finishes and is capable of the perfect follow-through of the details dreamed up. She has a passion for interior design and a passion that translates to beautiful detailing—a true match made in heaven from a design standpoint. Our role in this project was to help them merge their ideas into a cohesive plan. They are working through the build-ability of the home while bringing to life the details of the interior design.
The home is divided into three sections. The couple's portion includes their suite on one side. The children's wing is on the other side of the home, and in the middle is where they all come together. This area includes living, kitchen, dining, and office. These spaces are represented on the exterior as separate forms—the living area looks out on a massive covered porch and patio and a beautiful landscape beyond.
Modern materials and large windows will be utilized throughout the project. The glazing within the space is relative to the utilization of the space, with the most significant percentage of glass being in the living and circulation areas. Kitchen and office areas are reduced, bedrooms are reduced even more, and bathrooms, while still having natural light, are limited.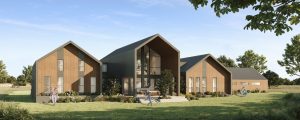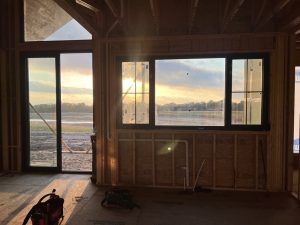 Make sure you follow us on socials to keep updated on the progress of this beautiful home!